The City of Yuma's potable drinking water system expands over 2 square miles delivering water to approximately 3500 residents in Yuma, Colorado. Within that 2 square miles, there are 2 potable water storage tanks providing 1 MG of water to approximately 1600 water service connections and 156 fire hydrants.
Water pressure for the City of Yuma is regulated by the elevation of the water in our two water storage tanks.The two water storage tanks located in Yuma are area landmarks. Our 250,000 gallon water tank replaced a standpipe that was located next to Main Street and is the beginning of our downtown area. Our 750,000 gallon water storage tank is the first thing you see when coming into town from the North on Highway 59. Both potable water storage tanks are embossed with our town\'s name, YUMA.
Colorado Primary Drinking Water Regulation Article 12 addresses Hazardous Cross Connections.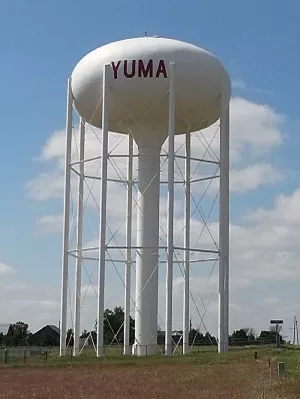 The City of Yuma adopted Chapter 13.10 WATER SYSTEM, CROSS CONNECTIONS AND BACKFLOW CONTROL.